Case Study
The Department of defence
Moorebank Units Relocation
Intro
WebFM's innovative approach gave Laing O'Rourke a perfectly predictable and incredibly efficient handover.
THE SITUATION
The Department of Defence's Moorebank Barracks in Sydney needed to be completely demobilised and relocated to a new, purpose-built site at Holsworthy. 
Called the Moorebank Units Relocation (MUR) Project, this was the largest single Australian Defence capital works project to be undertaken in over 70 years. It involved the removal and/or rebuilding of 146 separate buildings that comprised 13 Defence Units and four Defence facilities. This included;
An accommodation precinct

The School of Military Engineering

A state-of-the-art pool and gymnasium

The entry precinct

The training and brigade precinct

Civil infrastructure, such as roads, ovals and car parks

A strategic and efficient approach to ongoing maintenance planning and budgeting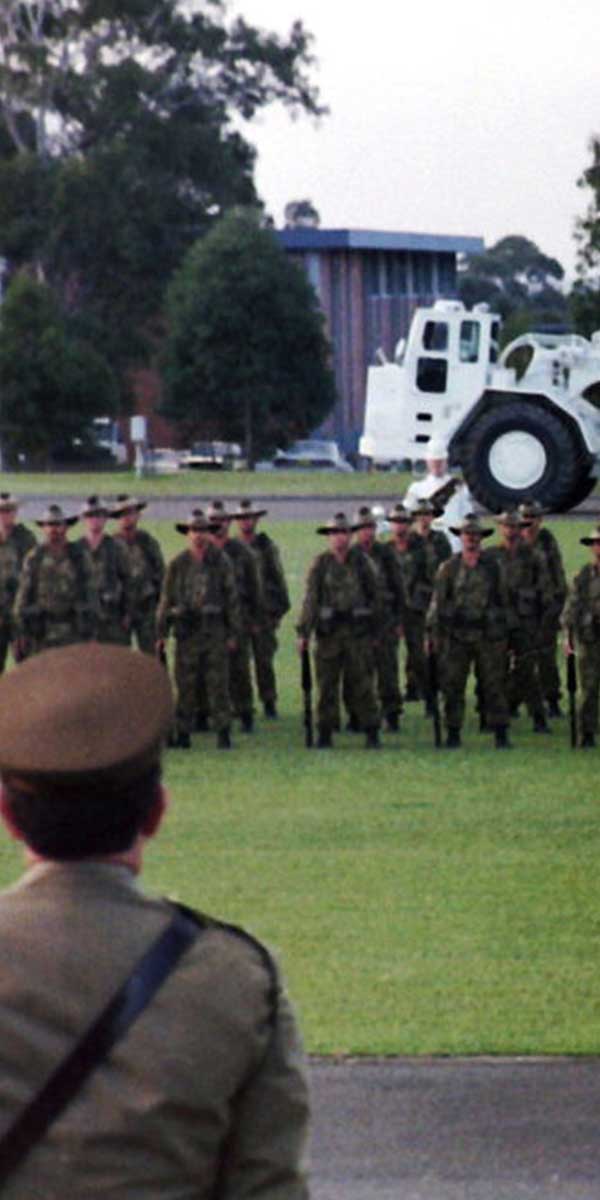 THE CHALLENGE
MUR was a relocation project on an epic scale. In total, the portfolio comprised 146 buildings, over 31,500 assets, more than 105,000 separate documents and 336 handover manuals. This vast size, combined with the critical timing requirements, posed unique challenges for both the Department of Defence and the managing contractor on the project, Laing O'Rourke.
With thousands of contributors involved, including contractors, sub-contractors, consultants, architects, client representatives, defence personnel and FM Managers, ensuring the accuracy and compliance of all information in these handover manuals was extremely challenging for Laing O'Rourke. The risk of handover delays due to missing or incorrect documentation could severely impact their ability to meet the progressive delivery schedule. The traditional handover approach was simply not a feasible option.
THE OPTIMISED APPROACH
WebFM's innovative approach to the MUR project gave Laing O'Rourke a perfectly predictable and incredibly efficient handover outcome.
Consulting: The holistic assessment we undertook at the outset enabled us to establish a thorough strategic plan for the entire project. Working collaboratively with Laing O'Rourke, we conducted an overview of all content, assets and repair processes, and then validated all information. The resulting strategy optimised the project program to meet the delivery objectives.
OmTrak: Our award-winning online platform brought every piece of information from every project team together – in one central and secure place. OmTrak gave the Department of Defence and Laing O'Rourke instant and project-wide visibility over all buildings and all project teams.
 THE RESULT
WebFM's simplification logic transformed this overwhelmingly complex project into a streamlined, data-driven success. The combination of consulting and OmTrak enabled powerful, high-quality data integration that made managing documentation, compliance, and communication both efficient and foolproof. WebFM's approach gave both the Department of Defence and Laing O'Rourke complete confidence.
Our approach was so efficient, handovers for 146 buildings were delivered 7 months ahead of 

schedule.

Defence had instant and easy access to all reports across every single building in the Moorebank

 portfolio.

Our innovations replaced 500 tonnes of paper with just 6 USBs.

-All data was validated, and all manuals were progressively uploaded and approved before 

handover.
DOWNLOAD OUR CASE STUDIES